Howdy!
Well we saved Jack from doing jail time. Phew! My darling speed demon was romping his way through the adjoining county 6 months ago when the Highway Patrol ( Po-Po) nabbed him. Slow it down dude!
Well he paid his fine, filled out the paperwork, dropped the lot into the mail. He did it all himself this time. What a grown up! *grin* Well this test of basic skills also had a part B. A form to fill out at the 60 day mark stating " I did not get a ticket while on speeding probation" Notarize. Mail.  This is the "closure" detail that makes the whole mess go away.
Whoops! Forgot that last part! SQeeeeeeek…those are the wheels of justice grinding to a halt.
So  Jack gets the friendliest phone call in the world on Friday. A darling public servant ( Po-Po) calls him with a heads up and even FAXES the form to him! WOW! Making sure he knows a bench warrant (a pinch) will be issued for him if he doesn't comply forthwith.
Well the only notary we know of is at the bank, so no sleeping in for the working man. Off we go early to get to the bank before Saturday hours expire.
We made it. Jack is a free man.
I think! LOL! He would not let me mail the form for him. Such a big boy! Let's all collectively wish he DID indeed mail it off.  *wink* No I am not just looking for trouble.  When we moved here from out of state. Unpacking Jack's car I found library books Jack promised to return 6 months previous. Yes! from our old town a state away. Yes! Its a miracle the blue haired ladies let us slip past the literary dragnet just outside of Claremore, OK and sneak into Texas.
While we are talking about Jack. Let me show you what he did, so I can have my washing machine put in the well-house. Making this long story short, so keep up don't want you falling off the back of the DIY bus.
My laundry room is really a tight little hallway between the dining room and the back door, get a few great danes turned around in there and all traffic STOPS! I cannot get to the unbalanced load at all, not to mention the noise of the chugging washer or spinning dryer. The acoustics in this house are "drop-a-pin" accurate. So to reduce noise, traffic and to install a water filter too…we decided when the washing machine quit a few months ago we would move the operation out to the well-house. This meant messing with water lines,copper tubing, soldering, electrical changes and of course moving a big bunch of clutter out of the way.  Jack has had to work on all this by himself. Why? My words "Because he is a high minded perfectionist who cannot allow anyone to help him." His words " I want it done right!" LOL! So we all just gave him room to work his perfect magic! *HOOT!* Perfection takes time.
Jack finished running the water lines this weekend. Yahoo!
He put them up high so he didn't have to bend over all the time he was doing it, but mostly because I might squish the water lines with an unbalanced load since they are all running along the wall and not inside the wall. I break stuff. Really I do. I am all about using something up till there is nothing left and this means forgetting to be careful about water lines I can't see when I smoosh a washing machine back in place after it takes a walk. Crunch!
I opted for two cold water lines for now. We have been thinking of an in-line hot water heater. They sound good, but we are not completely convinced the technology is where it needs to be for a reliable system yet. When the inline heaters get to 5th generation then we will take the plunge and add hot water. I don't do a bunch of hot water washes anyway. Can live without it for a few years.
Okay to recap: Jack's not in Jail. Washing Machine almost in. Life's too easy… how Can we complicate it up a bit? I know! We need more creatures…
The Chocolate Duck Pond
The boys want to have ducks. They are AWESOME at hand raising babies. Haven't lost a chick yet. So of course, we said yes. They keep them in their room, and watch over them night and day. Keeping the cats out is a full time job. So is sleeping with the heat lamp on.
They wanted Chocolate Ducks
But when we went back for the ones they picked out the boys opted for 4 sickly misfits instead. Their thinking was that the chocolate ducks being so pretty can find a home anywhere, but the mis-colored ones might not. They named these hard luck cases Big Tough Names so they might draw the inspiration live.
Black Headed one is Batman.
Mostly yellow with large dark spot on  body and head is Attila The Hun.
Stripe across the eye is  Vlad The Impailer.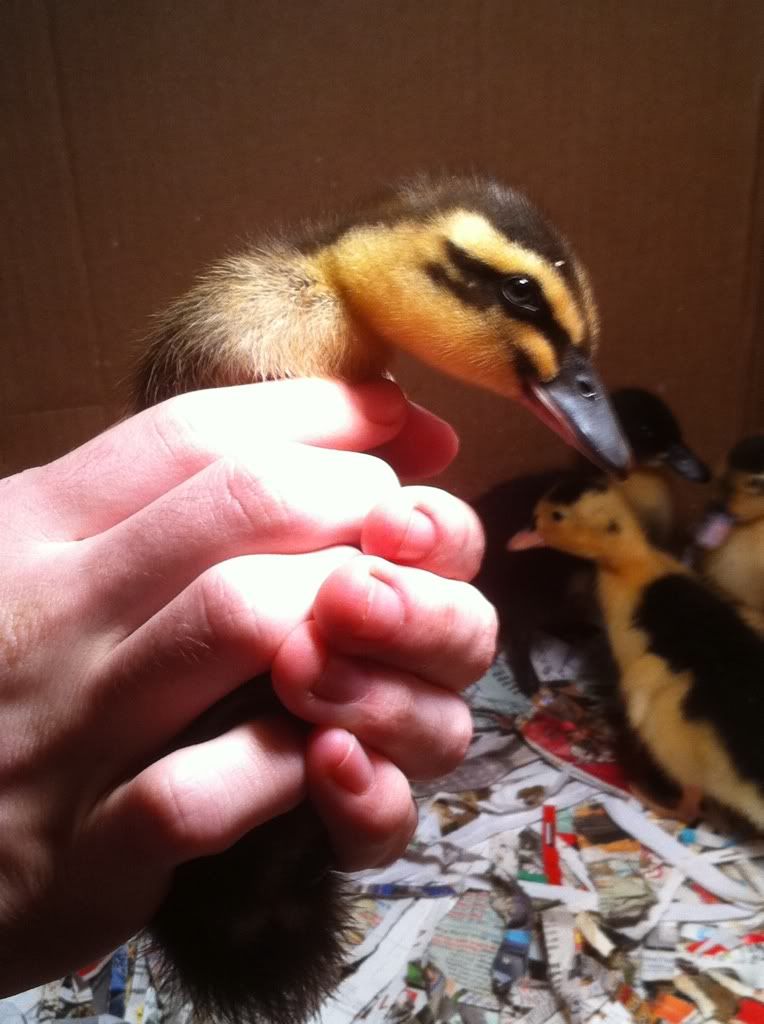 Mottled White on both sides of beak is Sid Vicious.
Sid and Attila in the car going home.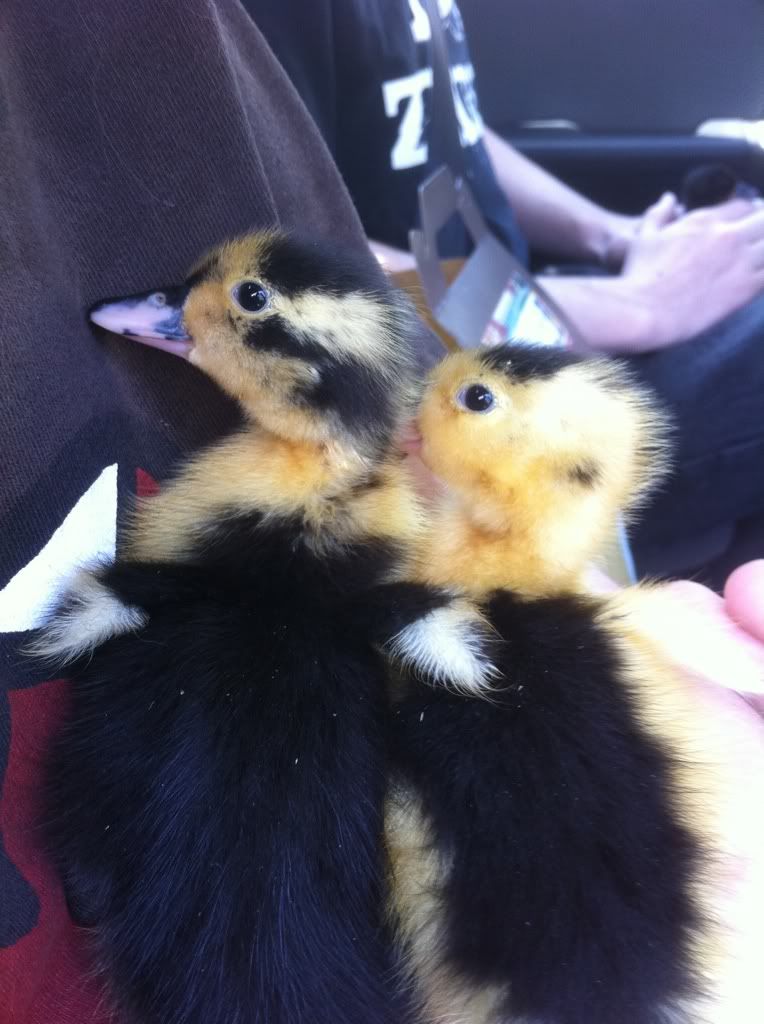 Well, we kept the boys pretty busy this weekend de-cluttering the well-house and shed in preparation for all that washing machine business. That coupled with checking their babies so often, they never did get to their digging. We are now calling Pork Chop Pond, because its shaped like a pork chop. Original!
May look like a bunch of torn up grass for now. Which it is. The goal is a 10x10x5 ft pond, with a solar powered water feature, cattails, butterfly bush and crepe myrtle for shade, a center island for nesting ( where dogs can't eat eggs) and I am gunning for a water lily or two.  I am sure there will be fish happening along sometime after the water goes in. We will keep you updated on progress until you are sick of hearing about it.
Freebie Time!
MediaFire Download JODIANNsPUspringWA_grow.zip