WHOO HOO! Good Morning!
Yesterday, we packed up our Dana ( big old suburban) with every stitch of dirty laundry we could find and set off for a day at Ann's Laundry! We lost count of how many loads after 18 and bought $60 dollars worth of quarters! HOOT! I think 8 loads of that was doggie blankets and doggie towels! Phew! Stinky! I even remembered to drop off the dry-cleaning…4 sweaters the cats lay on religiously for months. They sure know me there for cat hair! Two Fancy dresses and Jack's fine black suit ( for Jack's Christmas Party we missed). After rattling around in the car for months they looked like the sweaters…hairy!
Jack hearing how many quarters it took for all that laundry is renewing his promises to get the washing machine set up done so we can get a washer and dryer delivered. Did I tell you we are going to put the washer, dryer in the Wellhouse? No? I must have been too busy boring you with health talk! LOL! Well I am pretty excited about having the washing machine closer to the laundry line and the washing mess hidden better. I might even put in a counter where the old washer/dryer is and finally have a permanent sewing/crafting space! Whoo HOO!
I made it through yesterday without a nap!!!…even cooked pork chops, mashed potatoes, gravy and …well that is where I ran out of steam. So no veggies! Actually I got to talking with Dillon while I cooked ( like old times) and over spiced the meal and forgot the veggie. I made it to the table for grace and managed to eat a pork chop…yum! Then off to the newly made bed with clean sheets I went. Tickled I made the bed myself, double tickled I made it through laundry day!  WHOO HOO!
We were pretty disappointed in the medical establishment most of the weekend. Our choice now is to get myself healthy, get back to taking care of things ( like the laundry and moving that big pile of dirt in the backyard) and to research, research, research! *grin* I think I have decided I need 3 second opinions before I commit to any future medical procedure. Can I take a minute to say THANK YOU for all your prayers, good thoughts and positive vibes? You really lifted us up over the weekend, when we were so down!  Thanks to ALL who SO kindly  followed Juno's example and purchased something from my stores to show support! The orders came in throughout the weekend! It was glorious! How can I feel anything but JOY when I have great friends like you!
THANK YOU!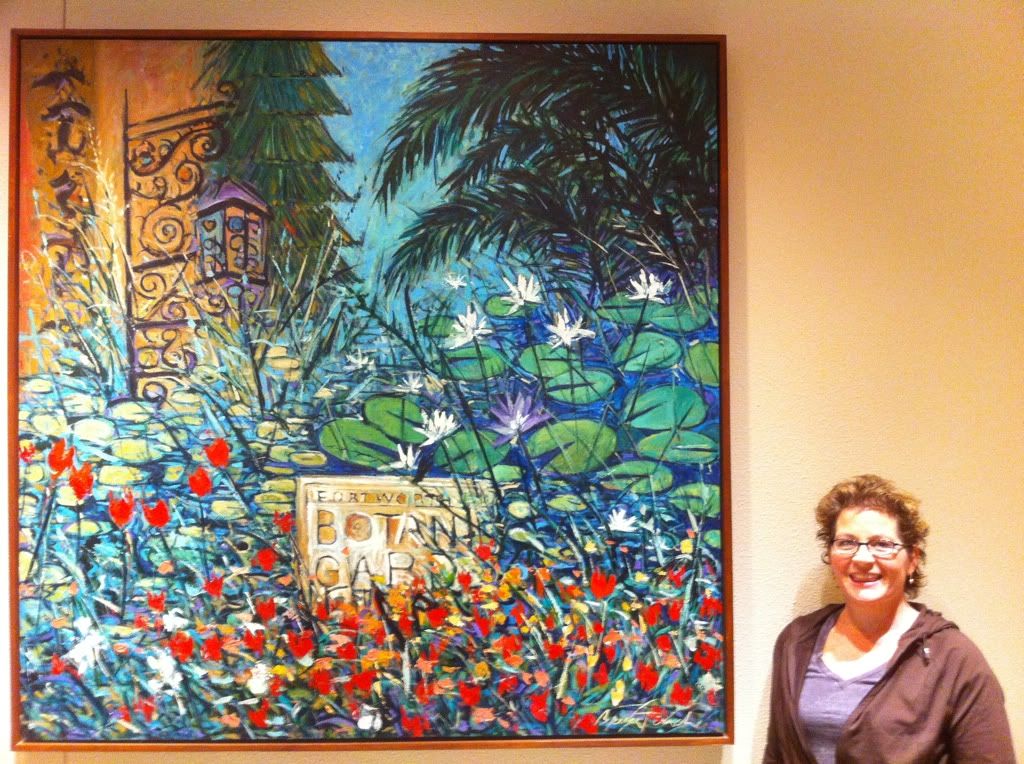 I was telling Jack how I am going to the Botanical Garden this year for my birthday and then we saw this painting. I had to have my picture made with it! Thanks Jack for snapping it, even though people were looking! HOOT!
I need some time to get healthy and sitting at the computer even for few hours EVERY day may not be it. It was decided that if I needed surgery for this pesky lung problem I would drop all my business pursuits, as well as my hobby computing, design, blogging, and Freebie Scrap Garden. And focus on my recover completely! Come back when I was 100%, not just limping back, but 100% solid healthy.  Well now that we are deciding to look at the matter further instead of just rush in, Jack and I have compromised on a plan for me to take 3 days off a week Saturday, Sunday and Monday. This should give me time to build a stronger me, visit doctors and alternative medicine folks.
Maybe just sleep in. *smile*
Pim's
If you are going to drown your disappointments in something why not an imported French cookie! The hardest layer here was the dark chocolate…the cookie part was soft like cake! Dreamy!
So expect this Friday for me to remind you to look for me next Tuesday.
There will also be major changes at Freebie Scrap Garden, now that I have lost Carlie for a year, she is going to South America for an education exchange program.  THANK YOU CARLIE! Carlie did Quality Checking for me too, so I feel the loss, but she is off on an adventure and I wish her plenty of joy and safety!
Its just me and Ho-Spice over there at FSG… well, NO actually…the Ho-Dog has decided her 6 grandchildren need her! * eyeroll * Don't you know kids raise themselves??? HOOT! Thanks Carlie and Ho for ALL you have done! You leave me for all the right reasons…kids and adventure! Love to you, both! 
So its down to me, I will SURE be simplifying things over at FSG. I could use a person who loves freebies to fill in for me on the Weekends and Mondays. Any Takers? If you can post to a blog you can do this.
Happy Tuesday Friends! You are Awesome!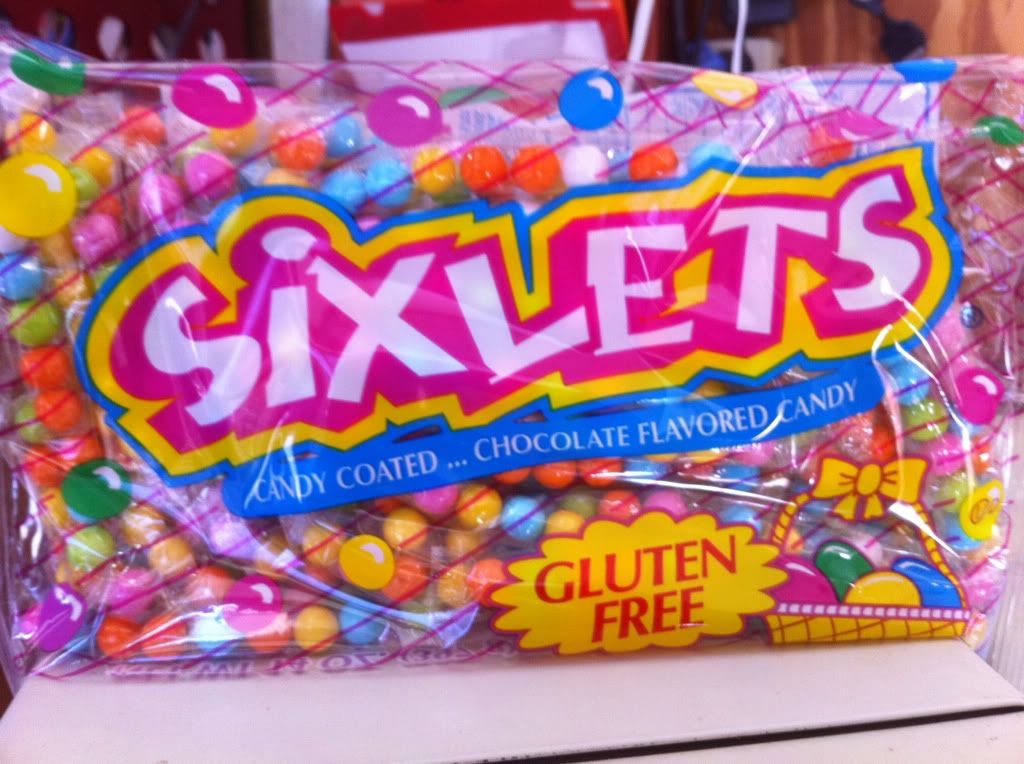 Easter Candy is everywhere in the store! The overall family favorite are these cheap little M&M knockoffs! Look Now Gluten Free! Like that makes them healthy or something!! *Guffaw*
Jodiann