Saturday, February 12, 2011
Jack and I did our Valentine's Date today instead of Monday. We have tried doing it on the night of, but Jack is always tired from work and we both like avoiding gobs of people. Have you seen a restaurant on Valentine's Day? We would sit there with the rising tide of conversation hitting our ears wishing we could talk to each other.
Well this time we jumped in with both feet, declared Saturday the day and off we went to this new place we heard great things about. First, we shopped for ground turkey for Gracie, and a grinder for her raw food. She is doing very well, but her metabolism is high at the moment ( will probably regulate when she is to a good weight) We added a meal to her before bed routine to see if she can put a little weight on and help her sleep sounder. We don't want her up to weight in a month, but we DO want her to have enough food to develop her muscles gradually, which were devastated by her starvation. Anyway, back to the date…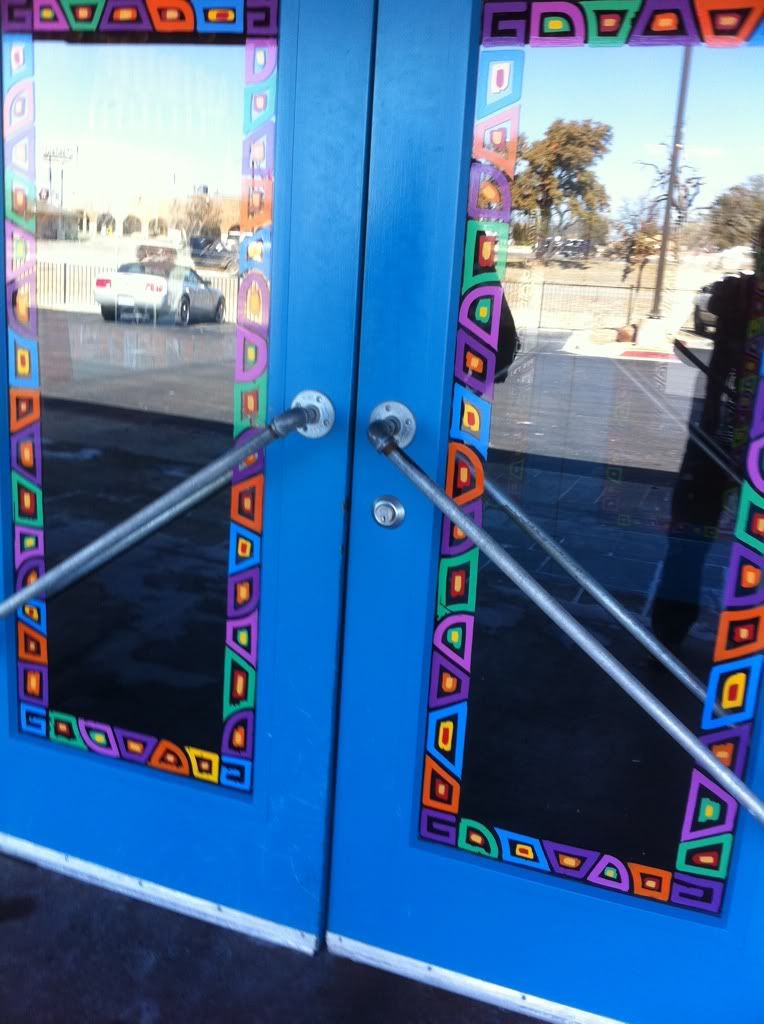 We were the first ones there for the day! Great Planning? or Good Luck?  We were seated in the Cantina ( bar) and it had too many TVs in view for me…I zone out to TV. All of them tuned to C-Span and covering the Health Bill Hearings. I was a mess trying not to watch TV and be present with my Honey Pie. So I ordered the Joey Bishop Margarita, only because they make it with Sauza Tres Generaciones Plata… a silver tequila, my second favorite  only to Herradura Silver.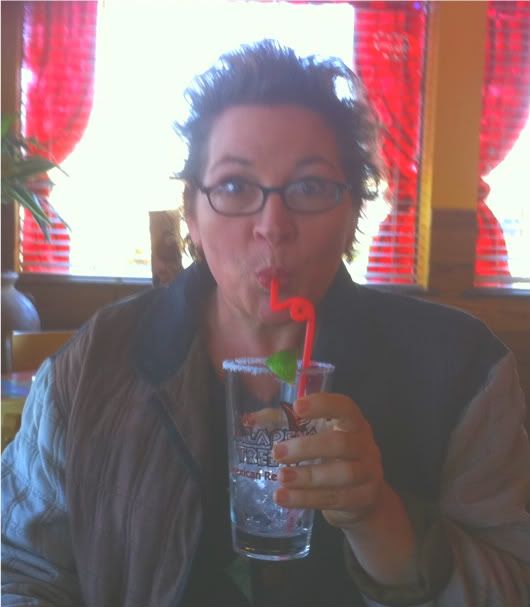 It did the trick, I only mentioned the healthcare bill like 12 times. HOOT! They were out of the commemorative drink shaker so they gave me a second margarita free, all talk of politics ended there! *giggle* Jack thought it pretty funny how I seamlessly switched to telling jokes and taking pictures! The waiter was enchanted…by Jack! So I had lots of material for wicked one liners.
I had the Juan Carlos, fire grilled shrimp and chicken over rice, with Pico. That is a tub of herb butter for the shrimp to swim in. Good Googlie I almost dove in for a swim myself….butter!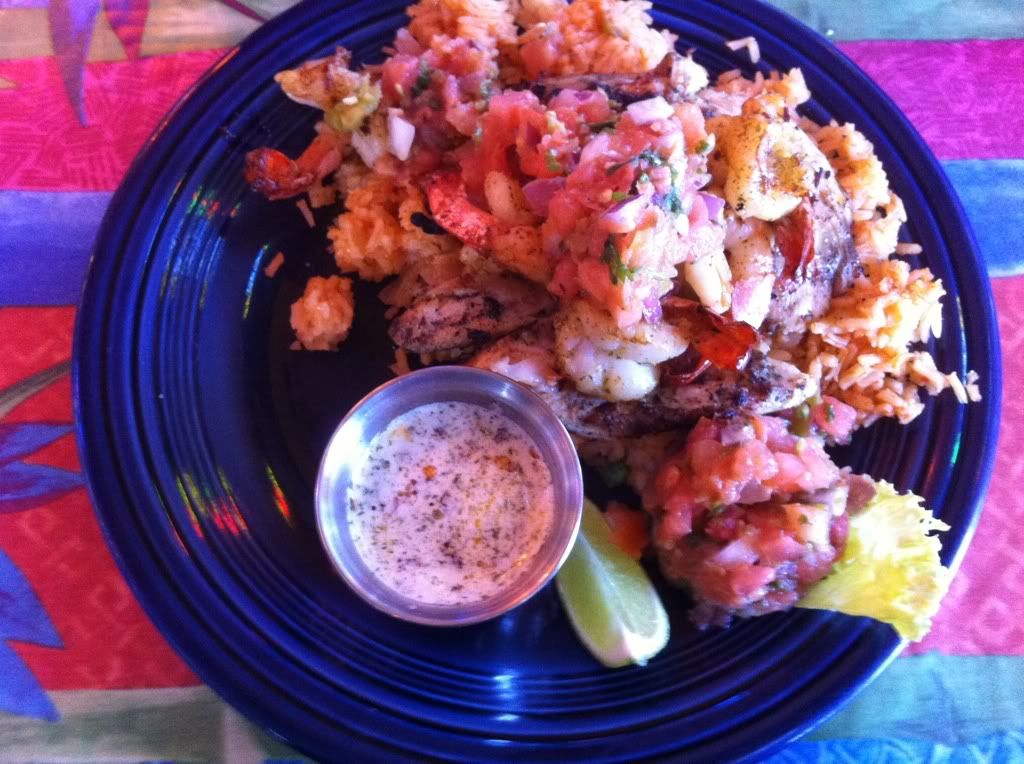 Jack had the Clint Eastwood, rice,beans,cheese enchilada, fire grilled chicken drowned in Queso.
Carnivore Jack is glad the folks at JT don't know Clinty E. is a vegan.
We dug in! What great flavor! Shrimp were so spicy…loved them! Chicken tasted of the grill what a welcome flavor after all the tired restaurant chicken we've eaten. Jack and I shared the shrimp and he gave me a bite of Clint Chicken…I am not a big fan of cheese, but I was surprised how good the queso drenched chicken was! YUM!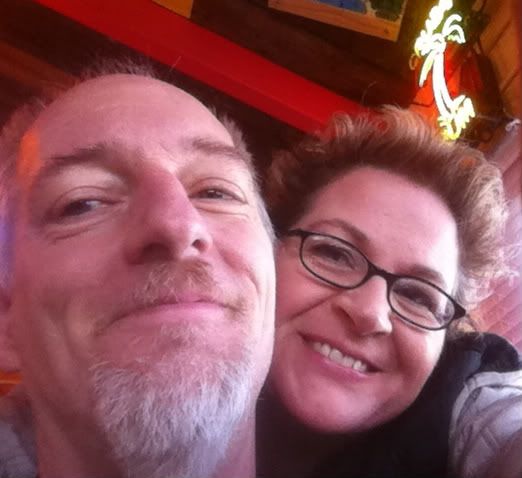 What pie lover can resist, Sizzling Apple Pie?
Not me.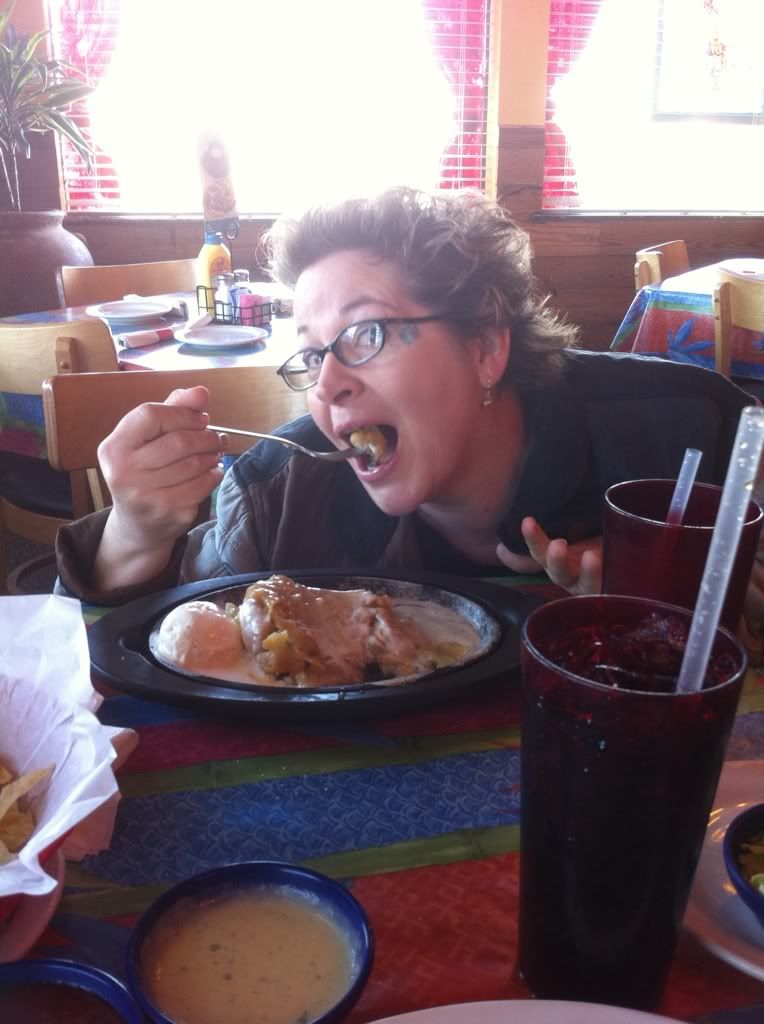 Jack had some too, but he wants to be on record as having only 1 bite and only after he cleaned his plate… and I didn't. So True! I never clean my plate anymore! HOOT!
Jack thinks I am number 1! *wink*
I was giggling so hard, I had to take Jack's flip off picture about 5 times. Still blurry!
I LOVE being Jack's Number One!
We had a great time and left just a the lunch crowd was hitting…it was a great time to get out of there, it was filling up fast!
We we got home a had a quick nap, since the grocery shopping bending go my ribs to hurting, and I had alcohol for the first time in months! *snicker* lightweight!
Then I started on these cookies from yesterday's post…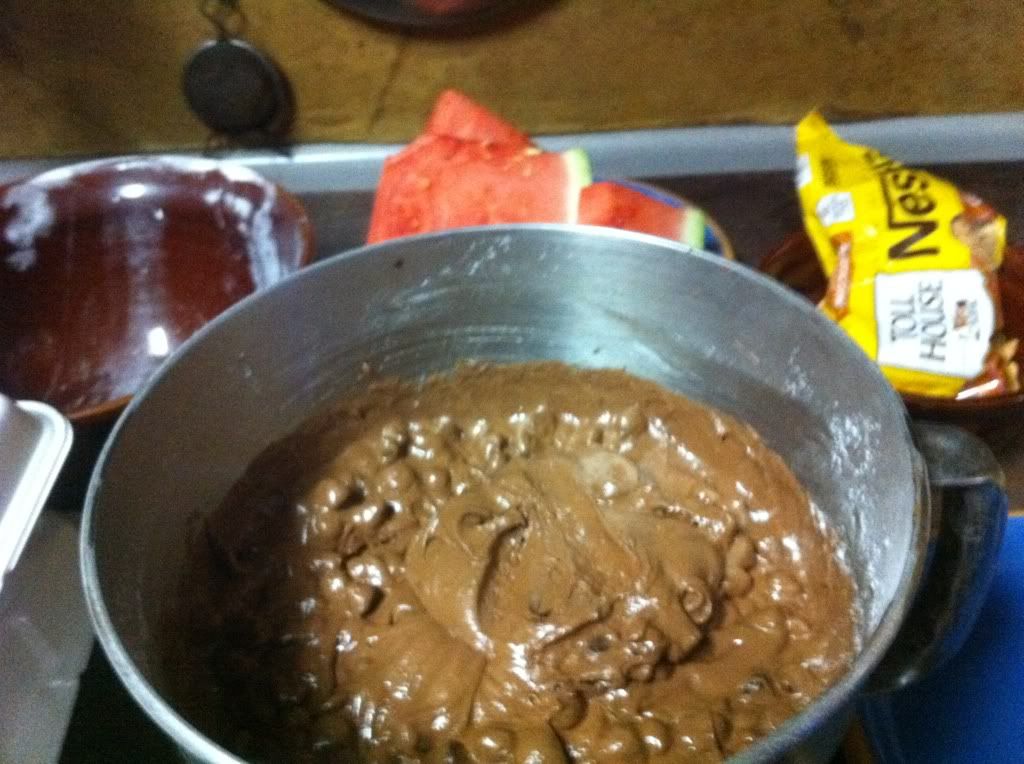 They didn't bake up well, going to experiment today with freezing the cookies on the sheet before baking to see if they will spread less.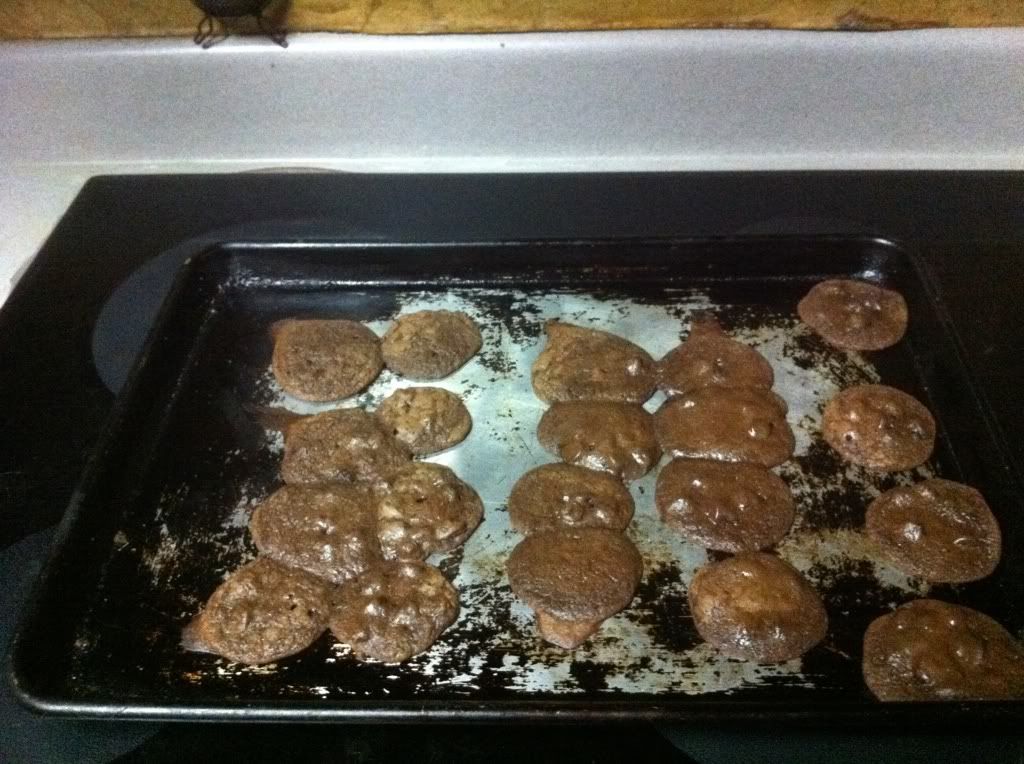 At sunset, Baby Kitty, Tailor brought in a friend. Doesn't her look just like her?
…except prettier! LOL!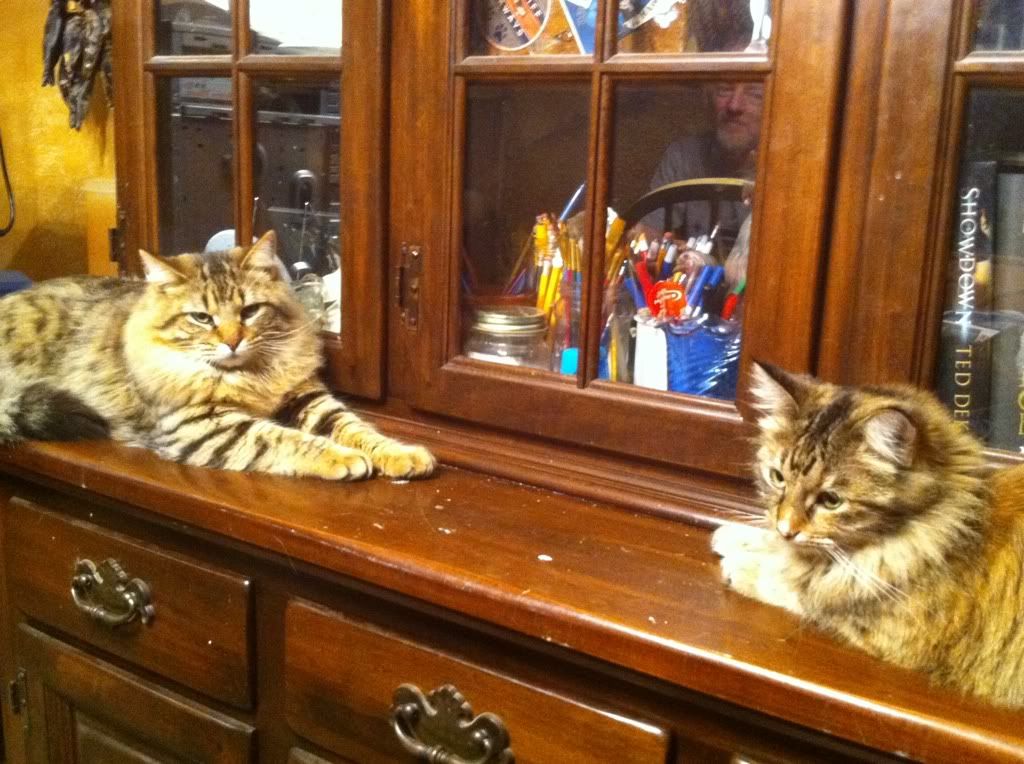 Poor Baby Kitty, that was just slick mean of me…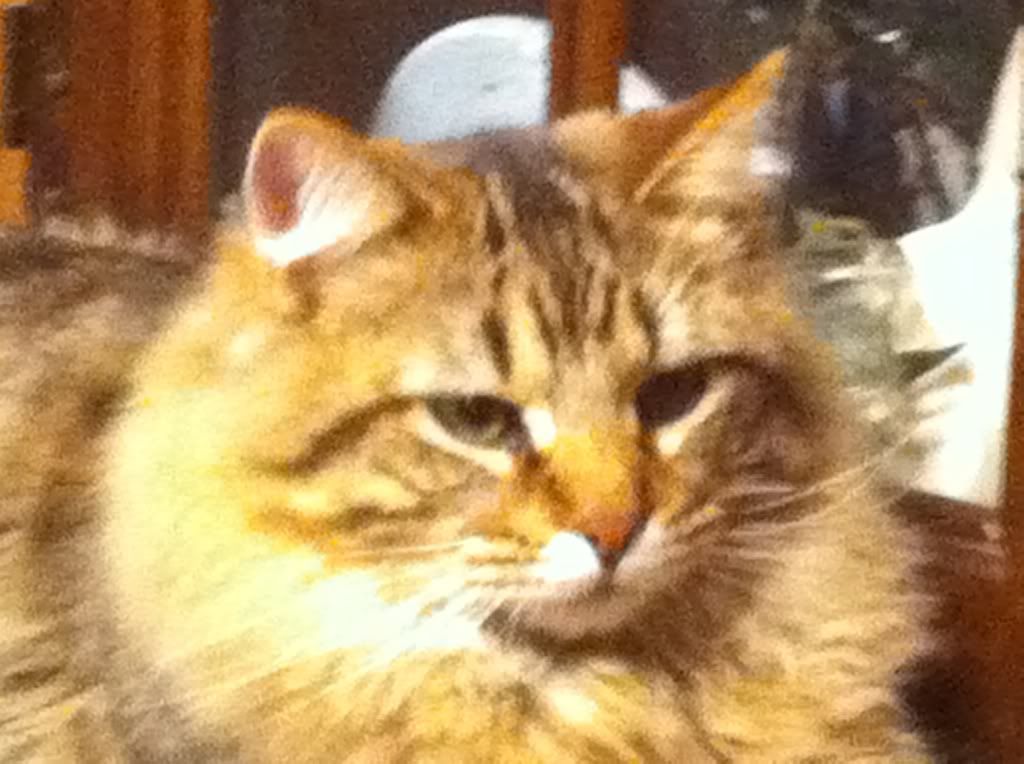 Tesla
We are going to get them both altered ( baby kitty was due for spay in December) and then find out if he is from a neighbor's. Its a miracle he hasn't been nabbed by coyotes he is so trusting.
Happy Weekend All!
Jodiann