Friday, November, 12, redux.
Okay, so I go get my car inspected to become a law abiding citizen and of course its not the windshield that's the problem ( unless the break is sharp and interferes with the wipers)  but that one of my blinkie lights has a burned out bulb and the bulb is fused into the housing so the bulb, receptacle and wire array will have to be replaced before my old Dana will pass. Okay. I can do that, just go to the parts store and order another one. Simple. At the 5th store I gave up. My car is not old enough ( 20 years) to have value as an antique so its parts would be a special order, but is old enough that some parts no one cares to stock anymore. I thought "lights" were common parts, not. I throw up my hands and decide to give myself a treat. I have been looking at all the pictures of myself as I post them and my makeup base that looks SO good to me in the bathroom is not the right color in all lighting. I think I need to go darker. After trying a few grocery store brands the last few weeks and having reactions to the stuff, or it being cakey, or just plain disappearing. I decide to go get a makeover of the good stuff. It was a lot of fun! I got to sit on a high stool and get my face tested, checked, cleaned, and new makeup applied and I dug it. Except the high stool hurt, but we all know from yesterday…why that was.
Here is Cindy, my Elizabeth Arden Skin Consultant and me after she did my base darker.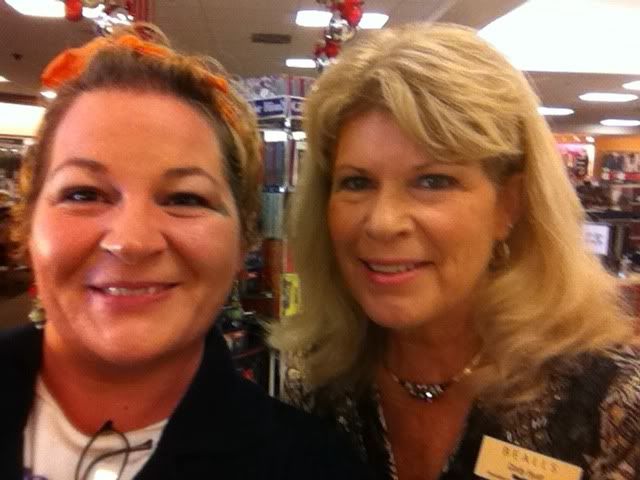 And  this is Martha my Este Lauder Make Up Consultant after she did my eyes and lips.
They were good sports to let me snap their pictures! A fun time!
I picked up the eye and lip colors, ( on sale and got a gift with purchase) Will need to go back and see Cindy when I get better. She put some luscious skin care on my face, but being cautious I wanted to wait to see if I reacted to it before I bought it.  I also was picky about the shade of the base. I just thought it was too dark and unnatural, but I see now its the right shade.
Me on the way home…I was starting to really hurt so just a little smile.
I decided to stop one more place to find the light bulb assembly even though I felt like going home to bed. I explained what I needed just like all the other times and they had it! WHOOHOO! Well, it would need to be shipped to the store but no matter. I paid up and then took my sore self home. I set out the receipt, for Jack to see and noticed it said "lens assembly" on the receipt. So I called back and said hey that's not what I need unless the wiring comes with it. Nope. Just the blinker lens. What? Then stop the order please. We can't do that ma'am its a special order. That sound you hear is my eyeballs rolling back in my head!
Well, this ain't my first rodeo. I decided to let Jack-Jack handle this one. Ladies, don't fight the auto  parts store, because your boobies get in the way. Find a hubby, brother, uncle or complete stranger man to talk to them. Auto parts guys ( some of them at least) can hear the words that come out of a girls mouth but usually they just assume we don't know what we are talking about and give what they think we want and then won't take it back.
I went to bed and wondered what I did, other than sit on a really high stool with my feet dangling to make my back and side hurt like I had done cartwheels.
The next day, Saturday,  I wasn't much better and I remembered I had that turkey (defrosted and soon to go bad) I wanted to bake, but I was in no condition to do it myself, and Jack had to work. So I devised a diabolical plan. I asked Jack when he got  home to help me on Sunday. He said yes! WHOO HOO! …and he really doesn't like Turkey.
Now, let me back up just a bit. Last Thanksgiving we were eating the last of the leftovers and someone, I forget who, said it would be great to make a turkey the week before Thanksgiving and live off the leftovers then too. I thought that was a great idea. So that is why we are early with the Turkey this year. I was planning something else for Thanksgiving anyway…something piggy like ham or bone in pork loin. So this way we can have both and all that Turkey soup, sandwiches, and such BEFORE when we are building up to the great big meal and its IMHO harder to get motivated to make dinners leading up to that BIG thanksgiving meal.
1 Hour Lazy Girl Turkey!
INGREDIENTS
1  10-15 lbs Turkey, Defrosted.
1/2 lb real butter. Softened.
Salt
Pepper
Foil
partially crushed aluminum can
INSTRUCTIONS
Pre-heat oven to 375 degrees.
Rinse turkey in cold water, remove the leg binder, giblets etc. from the cavity.
Cover a cookie sheet with foil.
With a sharp knife cut turkey horizontally, from back to front. Leaving a hinge just under the breast to connect the two halves and lay it out flat ( butt up) on the cookie sheet. Run fingers gently under the skin to form pockets for softened butter. Press softened butter under the skin. Rub remaining butter all over the skin. Using  partially crushed can, cover it with aluminum foil to boost the rear of the turkey up a bit.
Bake for one hour. Rest for 15 minutes before carving.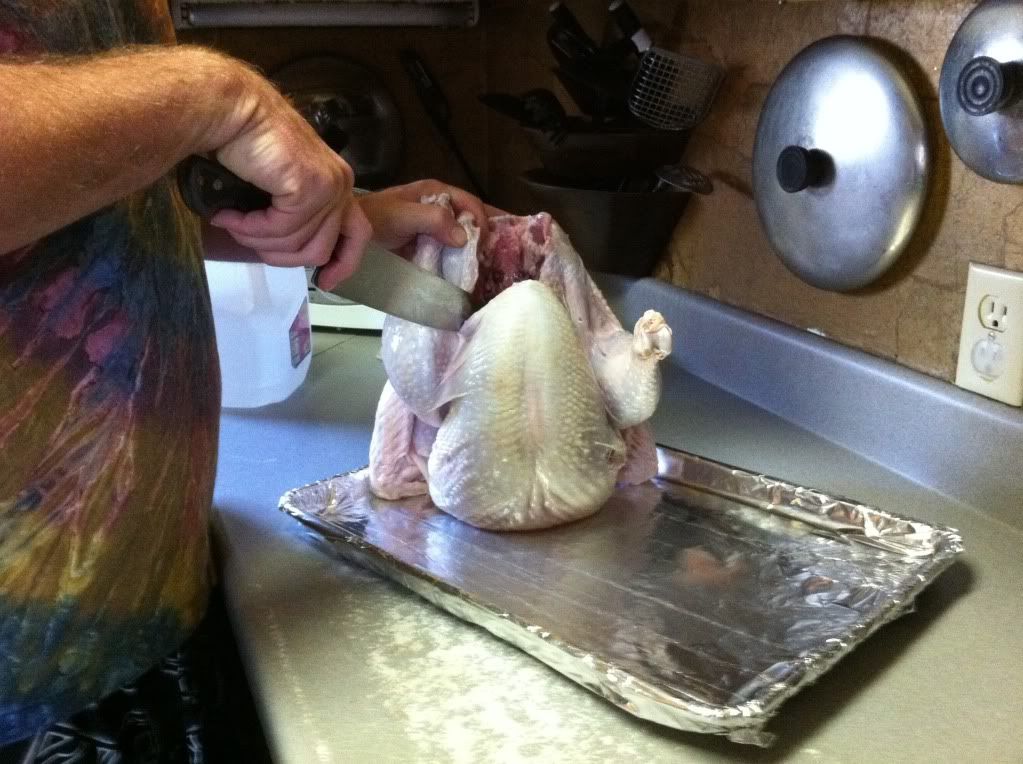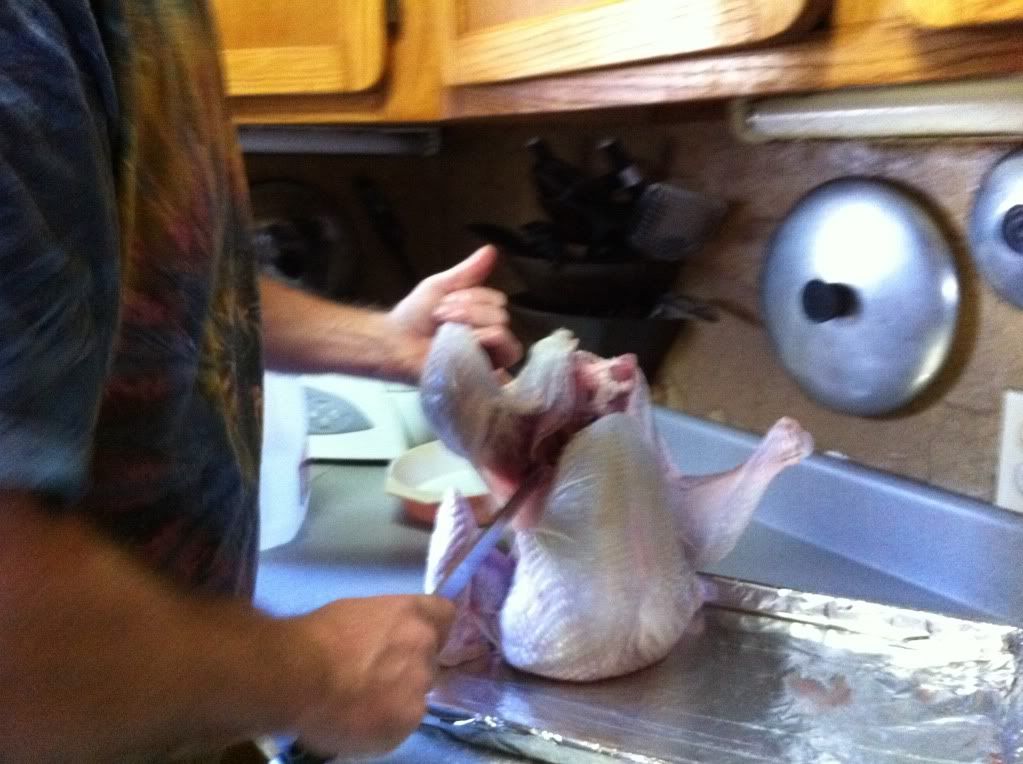 Remember cut so legs and wings remain on back portion.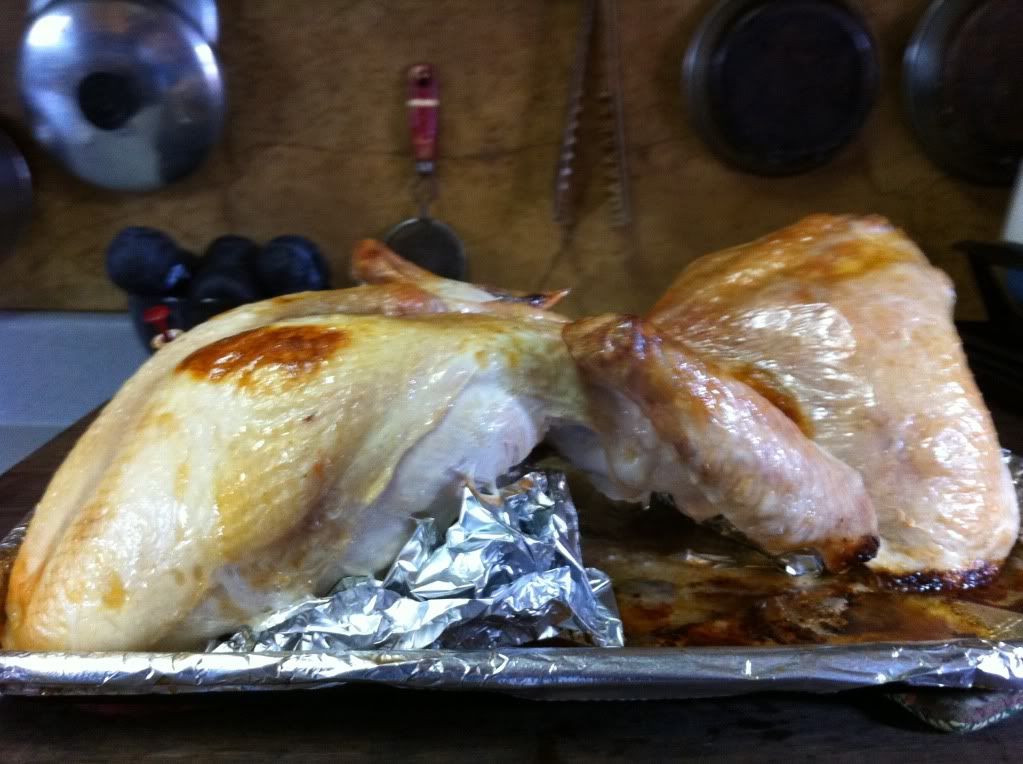 tuck a bit of foil under the breast if it won't stay upright.
Can covered in foil makes a good butt rest. btw, I cut the turkey tail off the butt before baking. It seems to burn baking the turkey in this position. Another good reason to cook a Turkey this way is there is no more waiting for the Turkey to get done so the casseroles and rolls can get their chance in the oven.
Christmas Stars Sheets and Styles

  I am a fool for stars and I couldn't let Christmas get started without making some for myself to enjoy.  I have a book of notes on this palette so you will be seeing more of these colors, maybe an entire  Christmas Style Bundle if it continues to enchant me.
30 Seamless Styles, 300ppi.
30 Seamless Sheets, JPG format. 4 inch square, 1200×1200 pixels at 300ppi.
| | |
| --- | --- |
|   | |
|   | Buy at |
Happy Tuesday Cyber Hikers!
Jodiann